If you work from home, you might not need reminding of many typical joys of this lifestyle. You don't need to spend time or money on pesky commuting journeys, while you can even keep wearing your pajamas right through the day. However, finding a suitable space to work can be tricky…
You might particularly seek a place that feels as professional as typical business premises, but you can also easily conceal during leisure time. Here are just a few ideas for creating such a space.
Turn a cupboard into a home office
One significant merit of this solution is that it's an option for practically anyone. After all, you probably aren't short of at least one spare cupboard to convert to this use – and that cupboard will include a door which can serve the purpose of hiding the workspace.
As Apartment Therapy explains, you can remove the clothes bar before adding shelves. One of these can be the top of your "desk", while another could hold books and other items crucial to your work. One of those shelves could also be used to hang a drop-down desk and so make extra space.
All in all, it's just another wall… or is it?
If you would like a home office larger than any single cupboard would really allow, you could set up a faux wall that somewhat closes off part of a room; a section which could be made the home office.
It's crucial to emphasise that this wall doesn't need to close off the home office completely. Indeed, a partial wall can make that office easy to access while still not immediately obvious to casual visitors to your residence. You might particularly consider building that wall in your living room.
Split a room down the middle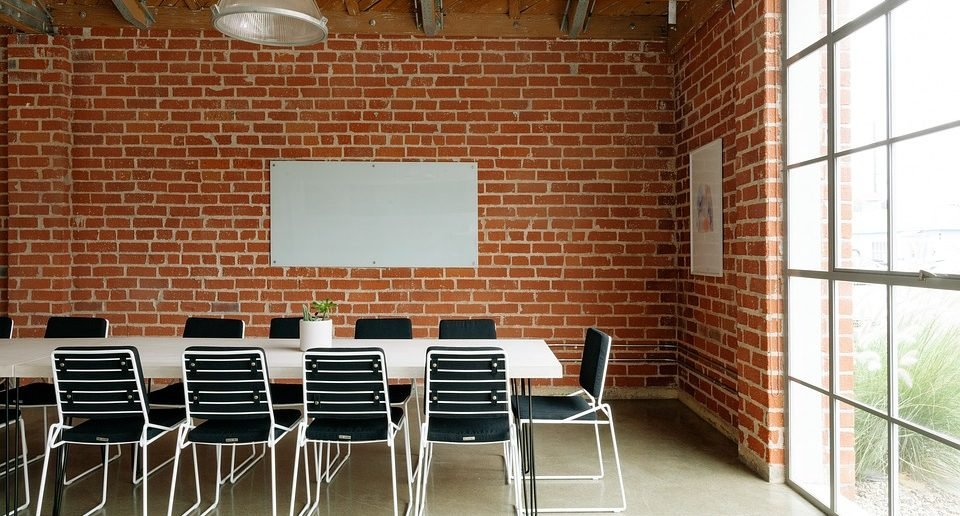 It's still possible for you to create space for a home office by dividing a room in a way that doesn't really necessitate the addition of a wall, however subtle.
You could do this through keeping both parts of the room similar in overall design. You could, for example, stick to a consistent and neutral colour palette, allowing you to add such utilitarian pieces as file cabinets and storage containers to make it slightly clearer where the home office begins.
This is an approach advocated by Real Simple.
Create a multifunctional, not single-purpose, space
If you are still struggling to find a particular part of your house which you could dedicate to home office use, perhaps the trick is not to find a currently unused space, but instead, convert a section which is already decorated with a wide array of items unrelated to your work.
This can be a surprisingly palatable option, as you could keep that home office minimal and, thus, easy to pack away as necessary. You could add a painted stool and dip-dyed curtains, as Ideal Home suggests – or arrange for the installation of bifold patio doors that could let you easily enter an office into which natural light can abundantly shine.