Winter coats are every man's best friend for a chilly and freezing time of the year. Along with granting you warmth from the icy sweeps of air it provides an elegant and classy look in any formal and informal occasions. Barging in with new trends every year men's winter coats are diversifying in various categories and opening up new avenues in the apparel section which makes it hard for fashion-less lots to stay up-to-date with the trend.
Given below is a complete catalogue of Mens Clothing for winter wears along with its added perks and features that will smoothed your shopping experience and guide you in opting for your suited coat for the winter.
Trench
This timeless apparel is traditional autumn wear. This light-weighted garment came into existence during 1901 and was traditionally used both as a raincoat as well a winter-wear. Surviving many eras of fashion these two-in-one overcoats are realized in shades of beige with its characteristic shoulder pads, chin-strap, double-breast fastening and overlapping the latch fasteners with a triangular brim. This retained trend is suited for any formal or informal occasions.
Bexton Double-Breasted Camel Coat
It is manufactured using genuine camel hair imported from Piacenza, one of the finest mills from Italy. Camel's hair is a lightweight material. That being said don't think that the coat won't be able to keep you warm when the temperature drops, which is common in British winter days.
The elegant style of the coat consists of six buttons, flap pockets, a belt back and a drape that can easily up your style quotient by many folds. The sleeves are equipped with the popular Savile Row spacing and button cuffs. It has a high-quality paisley lining that makes the piece of clothing ideal for all settings.
Navy Covert Coat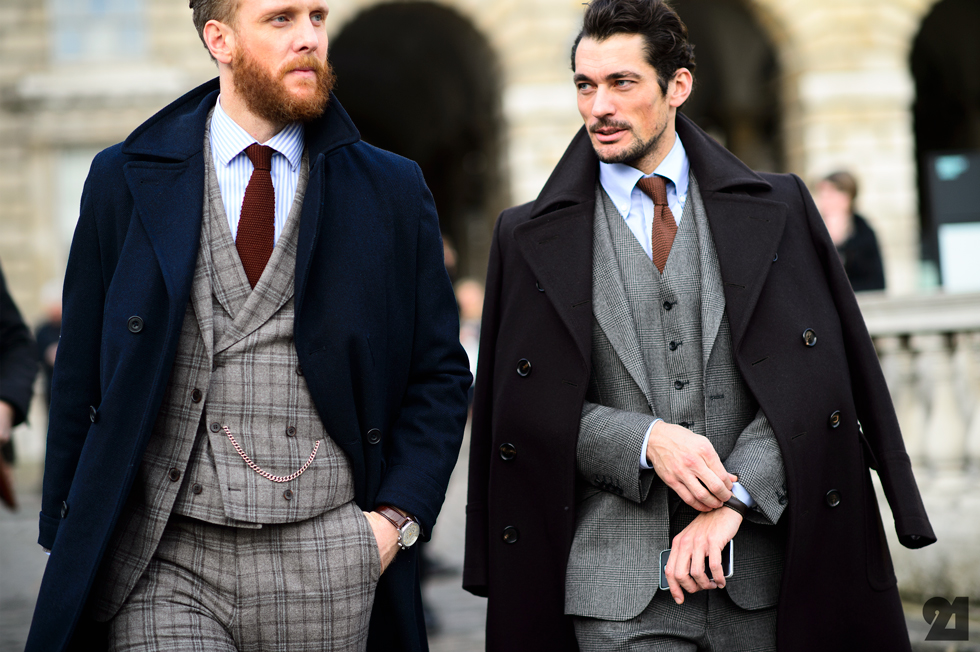 Among the many little accessories and must have dressing materials that adorn the modern gentleman's wardrobe, a Navy Covert Coat should be on top of your priority list. In case you don't have one, it is time that you pick one up for you the first chance you get. The material for Covert Coats mainly comes from the Northern part of England. It has a unique styling which consists of felt under the collar and a velvet top collar. We forgot to mention that it is has a single-breasted layout. The coat is lined with the popular paisley design. Be sure to pick a covert coat that has its buttonholes stitched with different coloured threads – it is in vogue these days.
Navy Runcorn Reversible Short Raincoat
To start off, the reversible short raincoat is a timeless piece of wardrobe that is another must have for your wardrobe. It is a perfect example of British tailoring that oozes practicality along with versatility. As you can read in the name itself, the coat can be reversed and worn without much trouble. It is a completely waterproof piece of clothing that uses gabardine on one side to keep you dry during a downpour and British tweed on the other side.
As you can see that these winter garments have certain types and attribute that you need to focus on before purchasing them. Before browsing over various coats to gear yourself for the winter, it is best to keep in mind of your requirements as it will help you in determining your chosen one from the lot.